Toxic Sex Toy Talk…
Part of pegging, a very important part, is of course the dildo. If you use butt plugs in your play I'm talking about those as well. In fact let's just leave the whole pegging concept behind for a moment (with reluctance) and talk about sex toys that are insertable. Whether you are a man or a woman…whether you are inserting them in your ass or your vagina or your mouth (or your partner's)…You need to make sure that the toys you use are not toxic!
A Little History…
The sex toy industry is unregulated…by anyone. Sex toys are classified as "novelty use", and not under scrutiny of any agency for consumer safety. "Novelty use" means that the item basically has no use and therefore is not regulated (No use? Wow, could we teach them a thing or two!). People like us are indeed using these toys. We are inserting these items in places with mucous membranes and delicate tissues galore.
Toxic toys contain PVC plastics with "phthalates" (pronounced tha-lates), which help to soften the toys. Greenpeace has called on the European Union to ban the use of phthalates in adult novelties, as they have already banned them in toys for children. The latest research indicates that exposure to these substances can upset the body's ability to regulate hormone production, damage reproduction, and can cause liver and kidney defects. They can also possibly cause cancer.
Rather than go into all the science and controversy around phthalates, I offer a few links to some excellent articles. Here is a piece by Emily Gertz in the Grist from December of 2005. This article by Violet Blue in the SFGate.com November of 2007 is quite good. Another by Tristan Taormino in the Village Voice January 2007. Greenpeace article Bad Vibrations September 2006.
The toxic adult toy purveyors point out that no studies have been done that have positively shown these sex toys are toxic. This is true, because it is hard to prove a connection since the damage is cumulative over a long period of time and no one wants to pay for the study…certainly not the toxic toy makers.
What boggles the mind is that even though 6 different types of phthlates have been banned in children's toys in percentages greater than .1%, sex toys containing far more than that are sold every day to use in your most private orifices! Do you doubt that this is true? Take a gander at the lab reports of sex toys that Jennifer Pritchett (owner of Smitten Kitten) took in to be analyzed. The one containing the highest percentage had 53% phthalates!!
This should seriously scare the crap out of anyone who uses cheap sex toys from China. How could it not?
The Bad Guys
The old guard of adult toy companies typically buy the cheapest toys they can get, usually from China, thereby maximizing their profit. They really don't care whether they are safe or not. After all, whadda ya gonna do – return it? Not. This attitude is so sex-negative it appalls me. They assume that there is shame and/or embarrassment connected with sex toys, so of course no one would actually take the trouble to return the "Doc Johnson Huge Double Monster Jelly Dong", even if it caused burning in orifices that didn't go away for hours or days.
For the most part, they are right. Even the most sex-positive person would probably just chalk it up as a loss and throw away the offending jelly monster, right? Who wants to return a used sex toy and explain what happened when they used it, especially if it only cost $10? So until now, they have been able to get away distributing poor quality, toxic toys without any blow-back from the consumer.
And to be very very clear here, the manufacturers don't give a damn whether you get sick because of their toys or not. They can't be held responsible because sex toys are not regulated. They care about one thing; their profits.
The Good Guys (and Gals)
Sex in the City deserves a bit of a nod at this point for the infamous episode with the "Rabbit Pearl" vibrator by Vibratex, Here's why. That episode brought sex toys more into the open for the American public. As sex toys became a more common purchase, a more savvy consumer emerged and awareness of toxicity increased. These new consumers demanded high quality, non-toxic toys; ones made to last.
Manufacturers started joining the movement…because if there is a market for it, someone will make it! (Kind of like, if they build it, we will insert it? No, not quite.) This new generation of sex-positive companies are challenging the old attitude of "who gives a crap about the customer". They have research and development departments, use the best materials and actually test their products on real bodies!
These manufacturers make promises to the customer to sell only non-toxic toys. They stand behind what they sell. They want to provide customers with toys that are well made, safe, long-lasting and do what they say they will do. It is from these companies as well as retailers like Jennifer Pritchett of Smitten Kitten select sex educators like Violet Blue and Tristan Taormino that the information about toxic toys is spreading. Select retailers started promising to sell only body-safe toys to their customers and became trusted sources for purchases. (both manufacturers and retailers listed below)
Here's how I look at it…If I take a toy out of the package, insert it and then experience burning in my vagina/ass/mouth for a few hours, no one needs to do a study that proves toxicity to me; I assume it! And this happens to people, believe me. It's a no-brainer to avoid using these sex toys if they contain chemicals already banned in children's toys. I have decided to err on the side of caution where sex toys are concerned. If you would like to do the same, here is some information to assist you in your quest…
Be aware – some of the nicest high end sex toys are indeed manufactured in China (because of the cost), so it doesn't work to just avoid toys made in China because perfectly reputable companies also manufacture there.
Clues For Recognizing Phthalate Toys
The Smell – toxic toys have a strong chemical smell, which never goes completely away, even with repeated washings.
See-Through Dildos – Not all see-through dildos are toxic, but many are. If it is see-though and flexible and soft, it's probably toxic. A few see-though dildos are made with a substance called 'elastomers'. Those are safer in terms of not containing phthalates, but still suffer from porosity and are difficult to sanitize. They should be used only with a condom, and ideally not anally. See-through hard plastic is safe, too, but a much less desirable texture for a toy.
Price – The cheaper the dildo – the more of a guarantee it is toxic. You may be tempted to buy the $10 bright red see-through dildo (they are kind of cool looking)…but you will get what you pay for. Though those brilliantly colored crystal jelly dildos are cheap – they are toxic! In fact the word "jelly" is pretty much synonymous with toxic in the sex toy world.
Be aware that many toys, especially the jelly toys are porous and cannot be sterilized! That, by itself, should be enough to stop you from buying them…even without the toxicity.
Safe Toys! (Toxic Toy Alternatives)
100% Silicone – If you are looking for silicone – silicone is always opaque; never see-through. Best to stick with manufacturers you know and trust. Platinum-cured is best.
Glass – gorgeous glass dildos are available in an amazing variety of colors and shapes. Not usually for strap-on harnesses.
Stainless Steel- the weight and heat-conducting ability of metal is marvelous and touted by many. Again, not usually for strap-on harnesses.
Hard Plastics – Hard plastic is safe, non-porous and has no phthalates.
As a consumer, know this…Reading labels will not always help you! As awareness has increased about toxic toys, the unscrupulous companies have even taken to labeling their products according to what the customer is asking for – which sometimes has no bearing on what is in the package. Basically, since people ask for phthalate-free, toys get labeled as phthalate-free, even when they are not. Again – no one regulates this industry so they can get away with it.
The Label on a Toxic Sex Toy Can Say Anything
Here's a second-hand true story about a toy retailer who was speaking to a manufacturer in China about a specific toy he was considering buying:
Retailer: "What material is this toy made out of?"
Manufacturer: "What would you like the label to say?"
Retailer: "No, I want to know what you make this toy out of. It is silicone?"
Manufacturer: "It doesn't matter. What do you want the label to say? 100% silicone? Phthalate-free?"
Condoms Won't Protect You From a Toxic Sex Toy!
A first-hand story from a man who is very sensitive and reactive to toxic toys:
Me: I have a question for you, if you don't mind. You mention that you tried many things to remedy the toxic toy problem – did you try a condom over the toy at any point? And if you did – was it to any degree successful in reducing the reaction? The reason I ask is because many sellers of toxic toys say just use a condom on it but there is actually no evidence that a condom will protect you at this point. So I was wondering if you have any anecdotal evidence one way or the other…?
Him: I am so happy you asked that question. I have used condoms on the toys I had problems with, and these are the ones that have a very strong "chemical smell" right out of the package. A condom(standard latex) will stop the bad sensations for maybe 5-7 minutes, then the bad sensations are just as bad as without the condom. I figured it was because the chemical that was causing the problem was leeching through the condom. After listening to one of your podcasts, now I know that condoms are not 100% non-reactive as is silicone. It just slows down the "issue".
So think about this – that means that even if you don't react to the toy with a condom – there is no guarantee that it is not causing problems in your body. Perhaps you are not sensitive in terms of your body reacting to the toxic chemicals as this man is, but that does not mean that no chemicals are getting into your body even with a condom.
Shop Where You Trust!
All you can do is to stick with the companies that you know and trust. They are out there, believe me! One of the ways I test to see if a company sells toxic toys is to do a search for the word "jelly". You either get jelly toys that come up or you get an article on why they don't sell any type of toxic sex toy. Of course there are online retailers out there who sell both the good toys and the bad toys. In that case you need to trust the manufacturer.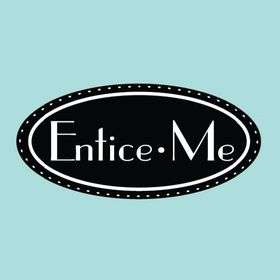 Entice Me sells only body-safe, non-toxic sex toys. These are products you can depend upon to not only be safe, but the best quality and design as well! Entice Me does the research for you and offers a curated selection of the best! When you shop there, you are supporting my work to spread the word about pegging, and spread cheeks! (Use coupon code Ryder for free shipping.)
Thinking about being an Affiliate of Entice Me? You can earn up to 30% commission on sales while having complete confidence that you are spreading more pleasure in the world with the best products on the market. Here's my experience with Entice Me.
Happy Pegging and play safely!