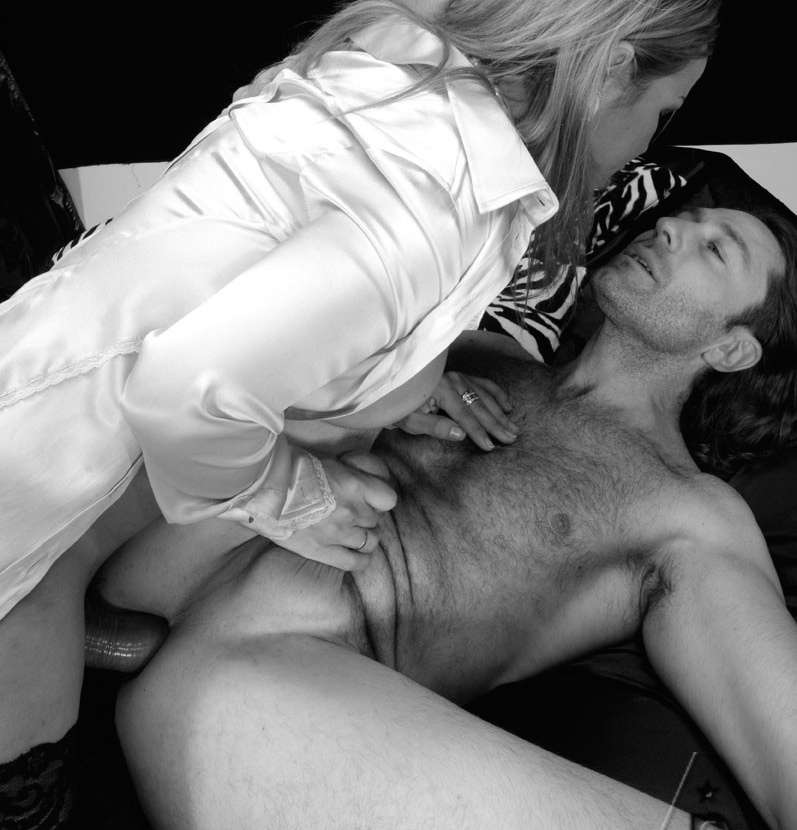 Pegging Orgasm Intensity
What does an orgasm feels like with combined prostate stimulation or pegging with penis stimulation?

Is an orgasm like that really 10x more powerful than a "normal" orgasm?
What the Receivers Say
I asked these questions in the subreddit r/pegging some years back (when there used to be discussion instead of only porn). I was trying to show a disbeliever that orgasms involving prostate stimulation are much stronger than typical orgasms. Here are the responses I received:
It's 100% more intense than a normal orgasm due to the fact that a normal pegging means a fair amount of prostate stimulation before hand, and so long as she doesn't stop while he's cumming it can feel like the world has gone dark and time has slowed.
---
Like my penis no longer matters. Joking aside 99% of any orgasm I've ever had with prostate stimulation is better than any orgasm with out. The difference in feeling at least for me is that a cock orgasm is centered around the gathering pressure in the cock that feels like it tightens until you finally get release. That release is brief and short lived but amazing none the less.
A prostate orgasm ignores the build up of tension and is more a build up of waves that start at the point of pressure and slowly ripple out over the rest of my body. Each subsequent wave slowly building, rolling through my body, and crashing against the seams of reality bringing me to an ever higher and longer lasting state of release from tension I didn't even know I had. Either way orgasms are great and we should all try and have them as often as we can. If having something in your butt may make that orgasm better why not at least try it?
---
More Receivers Speak Up
Prostate stimulation enhances orgasm by different degrees for different guys. For me, I'll admit that at first it feels rather odd (probably because it doesn't happen very often) and it can be uncomfortable if there's too much stimulation to either location. It turns me into a moaner (I very rarely make involuntary noise), and makes my orgasm incredibly intense, it also increases the amount of my ejaculate.
---
I like a vibrator against my prostate while I masturbate. My body just goes limp when I cum. Complete loss of all control and a blinding orgasm. It's even better if you can get a partner to do it for you, though. If you can get a blowjob while they work the vibrator, it'll change your life 🙂 Or a handjob while getting strap-on fucked is pretty awesome too. I came on my own neck while flat on my back once from that.
---
Pegging and cock stimulation give a fantastic orgasm. If you can cum at the right moment, double orgasm, it is indescribable. Its full body and brain. When it happens to me I am out of this world for some time. I am very experienced with anal orgasms. To cum at the right moment (double orgasm) takes a lot of exercise and skill from the person pegging.
---
Bakers Dozen!
10x…I guess I've never attempted to quantify the power of my orgasms, but I can tell you the following characteristics:
My load shoots much further and harder from orgasms that correlate with anal penetrations. I can feel my come moving along the entire length of my shaft. I often edge quite a bit before I come during anal penetration because my body and mind go numb with pleasure after these intense orgasms.
Staying harder longer happens after getting off with anal penetration, more than without. I also get harder more quickly afterwards. Starting with anal penetrating orgasms (APOs) has led to the longest, wildest, and most satisfying sexual romps of my life.
While normally not a talker, I cuss, moan, pant and go crazy with a strap-on stretching me. My heart races just thinking about the energy it fills me with.
Pegging and self play is all I've ever engaged in. I'm always a switch but I prefer the more submissive orgasm to the dominant one because of the intense out of nature experience I have. I'm a corporate leader type, captain of sports team type, by day and most nights, but the right woman can find a deep wild lust that's animalistic.
So, I reckon that means its a 12x better orgasm. Hell, maybe even a bakers dozen!
---
The Most Fantastic Orgasm
Pegging gives the most fantastic Orgasm. If done right in combination with stimulating the cock, it will blow your brains out. If hands free it will last and last, you will keep cumming. My friend gives me the most fantastic prostate massage, no cock stimulation, which can last for hours and you keep cumming and cumming. Better than pegging.
---
It's both a mental and physical orgasm. Like, I can feel it throughout the body whereas a regular, strictly handjob, orgasm has like a two-eight second feel. It's one of those weird times where the body takes over and the brain takes a hike 🙂
---
The First Time I've Ever Been Breathless
I've never been pegged, despite my very intense desire to be, however when I purchased one of those Rude Boy prostate/perineum massagers, I got a taste. For me, it's the first time I've ever been breathless during and because of an orgasm. The pressure and the alien sensations at first were mind-blowing enough, but when I got used to it, I find myself wanting to just grind there constantly. I've not quite had a handsfree orgasm from it yet, but I've had a good 10-15 minutes of constant dribbling until I get so pent up I need to bring myself to a full climax. What I'm saying here, is that I can't wait for the real thing.
---
I can't say for full blown pegging since my girl and I haven't tried it, but I was trying to describe the orgasm I got from her fingering my ass while she blew me to a friend, and the only thing I could think of was: It's like the ghostbusters threw one of their traps near me, and my cum was the ghost getting sucked inside. It was mind-blowing.
---
My response to this might be strange because I discovered at a very young age (13 I think?) that I could have prostate orgasms… and I used to have sessions where I had those because they are so amazing and different from the norm. But, as I have gotten older, I usually end the session with a combination of prostate and edging into a… I guess the analogy would be a blended orgasm?
---
Even More Receivers Weigh In!
Ten times more powerful would be accurate, but not in all cases. I would say the average prostate+cock orgasm is 10 times more powerful than the average masturbation session. But I have had some incredible regular orgasms with women before, that rival my prostate orgasms. It just comes down to how different they feel.
---
As others have said, any orgasm involving the prostate feels so deep inside. A regular orgasm does have an internal component, but it gets so overshadowed because of the strong contractions and pure pressure in the base and length of the cock. A regular orgasm feels so right, like I'm totally in control and working toward this pleasurable goal and release. With prostate stimulation the orgasm always comes outta nowhere; I'm working toward it but each one seems different in some way, and I always worry that this time, I won't get there. And when it does come, I feel totally out of control, like my body is almost doing something wrong. The tension/release and waves of pleasure are almost unbearable.
Of course, my description might differ from those simply getting prostate stimulation while they come… those are usually pretty intense but nothing like the 'blended' orgasm. I have never been pegged either 😛 Prostate play has always been my personal thing I do. Luckily I have a partner that wants to get into it, so we'll be doing that soon. Can't wait!
And One From a Giver
Most of the time my man doesn't squirt that far when he does come but lately, since we have started pegging, he is now shooting it hard and far. One cum shot flew past my face while he was riding me and landed a few feet back. He was also thrusting uncontrollably to the point I was a bit concerned. ( I have NEVER seen him like this in the 5 years that we have been together. ) He has become a moaner, which he never does.
---
Pegging101.com – your source for pegging information, without the kink